Grab your girlfriends–do I have a great idea for you! If you love happy hour as much as I do, you need to keep reading! I love getting together with my girlfriends after work, splitting a bottle of wine and chatting over appetizers. What I don't love is when the check comes at the end of the night and I realize how much I've spent on small plates and drinks.
Happy Hour at Home
Last night my boyfriend and I wanted to celebrate some good news but since it's the end of the month, our budgets are pretty tight. Instead of spending $30 each on drinks and snacks, we decided to stay in and make our own happy hour. I knew we had some cheese and snack foods that we needed to use up before they went bad, so all I had to do was run to the store, grab a bottle of wine, and a few more snacks and we would be good to go!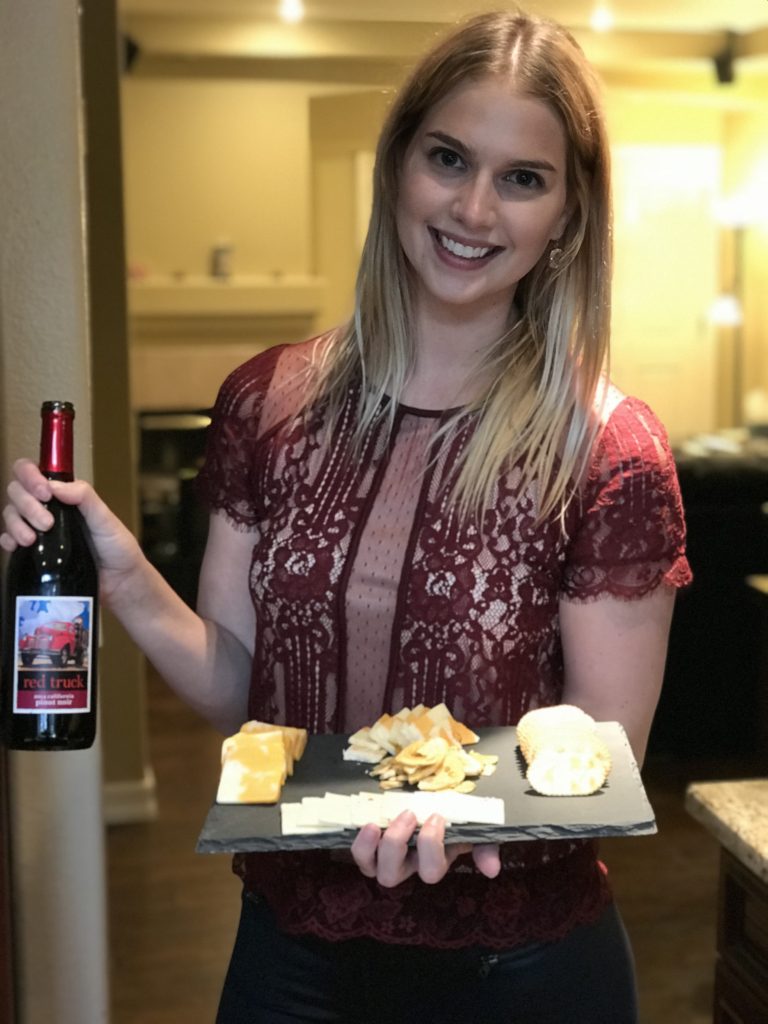 Keeping Happy Hour Frugal
I knew we already had a few ingredients on hand. So, before I even set foot in the store, I knew I had to take inventory of what we already had in the house before spending unnecessary money.
Food on Hand
Frozen Meatballs – I typically make a big batch and freeze leftovers
Colby Jack and Pepperjack Cheese
Dried Fruit and Nuts
Frozen French Baguette (for cheesy garlic bread)
Groceries to Buy
Crackers – $1.99
More Cheese (Can you ever have enough?!) – $2.99
Wine – $5.99
Putting It Together
After spending a total of $11.52 (with tax) I drove home and put it all together. I had fun trying to see how creative I could get with the ingredients we already hand. Plus, it was a fun game to see how little we could spend. Below you'll see the quick cheese board I threw together for under $12! It's not the greatest picture, but I had to snap it quick–we were hungry and ready to eat.
Our Happy Hour in a Nutshell
We had a lot of fun spending time together, catching up, and of course, laughing. Not only did we save over $40 but we had a delicious, homemade happy hour. While it is fun getting dressed up and going out to a restaurant. It's also fun to mix it up and do it yourself. Just because you're working within a budget, doesn't mean you can't have fun. Get creative, DIY, and you can have an awesome happy hour experience at home.
Looking for other creative date night ideas? Check out my post on MoviePass, the Nextlix of movie theaters.