I hate to admit it, but I have a dirty little secret. I secretly love watching Extreme Couponers on TLC. The fact that people can load up entire grocery carts full of food and toiletries and pay next to nothing is crazy to me. How is this even legal? As I'm typing this it sounds as if those people are robbing the grocery stores. And while I get an adrenalin rush while watching the show, I know that I, myself, will never be an extreme couponer. I just don't have the time or the cajones to dig through dumpsters. So where does that leave me? I could throw in the towel and just spend whatever on groceries. Or, I could use a few tips and tricks that I've learned over the years to save as much money as possible grocery shopping.
Step 1: Create a Grocery Budget
If you're like me, you're probably a single millennial working to live on a budget. Your grocery budget is going to look different from mine. I don't have any dietary restrictions (other than the fact that I don't like seafood). I'm not vegan, Gluten Free, or Paleo. Which means, everything in the grocery store is up for grabs. My grocery budget is $125-$150 per month which breaks down to about $31.25-$37.50 per week.
If you're used to spending $50-$100 per week on groceries, trimming your budget is going to be a bit of a shock. But stick with me.
Step 2: Check the Ads
Now that you have your budget in place, you need to check the ads. So stop throwing away your junk mail! That weekly packet of flyers you get on Wednesdays is going to be key to saving you tons of money. If you go to the grocery store without a plan it is way too easy to overspend. By knowing what is on sale you can begin to search for recipes with those ingredients.
When you're looking at the ad, stick with the front page. The front page is going to have the best deals of the week. Grocery stores try and lure you in with those front page deals. But if you're a frugal millennial, you'll know that if you try and stick to just those front page deals, you're going to score major savings.
Step 3: Create a Weekly Meal Plan
Now that you know what ingredients are on sale, it's time to create a weekly meal plan. I try and eat 80% of my meals at home, it saves a lot of money, and quite frankly, it's better for my waistline. With that in mind, create a spreadsheet (or download and print the one I use here) and write down your meal plan.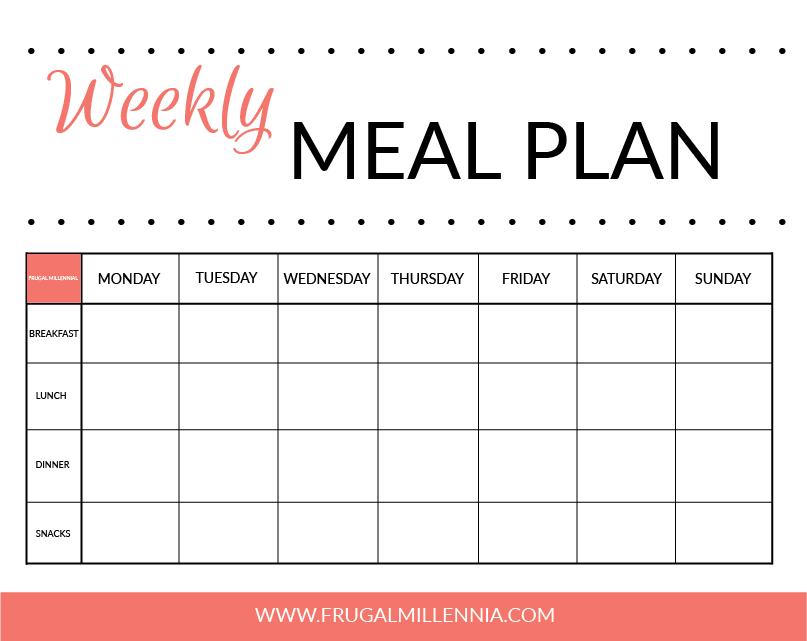 If you have no idea where to begin when it comes to meal planning, worry not! A few years ago when I was just starting meal planning I was completely overwhelmed. I didn't know how to cook or grocery shop, but over the years I've practiced every week and have become pretty good. My favorite recipe website is called Budget Bytes. It has really great recipes that are easy to follow and they use ingredients that I (almost) always have on hand. If I see that chicken, spinach, and red bell peppers are on sale this week, I head over to Budget Bytes to see what recipes have those ingredients.
Channel Your Inner Julia Child
I highly recommend you avoid processed food as much as possible. Not only will your waistline thank you, but your wallet will too. I'm not going to lie, I love to splurge on an occasional prepackaged meal and treat, but I don't focus my weekly meal plan around process foods. Processed foods are really marked up and you are paying for the convenience. Unless chips, cookies, or frozen pizza is on sale, I don't buy it. When it is on sale, I allow myself to pick up a package or two and spread it out throughout the week.
If you want to see what I'm eating and how I grocery shop, check out my weekly meal plans.
Step 4: Create a Grocery Shopping List
Now that you know what you're going to eat for the week, it's time to go get those ingredients! First, take note of what you already have on hand. Americans waste more food than any other nation. So, let's save the earth and your pocketbook and check to see what you already have hiding in your refrigerator. After seeing what you already have on hand, add the ingredients that you need to buy to your grocery shopping list.
I crate my shopping list on the notes app on my iPhone. That way, I'm always carrying it with me and never have to worry about forgetting it at home. I mean think about it, when was the last time you went anywhere without your phone? As I walk through the store I delete items off of my grocery shopping list as I put them in my cart.
Step 5: Go Grocery Shopping
It's go time! I played sports growing up, in fact, I was involved in everything from soccer to basketball to volleyball to track and field. Sometimes my inner athlete comes out and it's easier for me to think in terms of sports analogies. I like to think of everything before hitting the store as practice. Checking the ads, creating a weekly meal plan, and grocery list are all prepared for the big game, hitting the grocery store. Now that you are fully prepared, let's head the field.
Resist Temptations
As with any game you play, you're going to have to overcome obstacles in order to get the outcome you want. When you're at the grocery store, you're going to be tempted to purchase things other than what's on your shopping list. Try to resist. The more items you put in your cart that aren't on your list, the more likely you are to overspend.
While overspending a few dollars won't totally kill your budget, it will add up. The way I look at it, the more I spend on groceries, the less I can spend on other things. You see, if I go over my grocery budget, I have to take it out of my miscellaneous budget. That means fewer girls nights out, brunches, and shopping sprees. When I put it in perspective, it's not worth it to me to add extra goodies to my shopping cart.
Grocery Shopping in a Nutshell
If you're new to budgeting and trimming your grocery budget, this can be a lot to take in. To be honest, I don't do everything on this list in one day. I spread out the task over 2-3 days. That helps me feel less overwhelmed.
On Wednesdays, my favorite grocery store, Sprouts, publishes its weekly ad. I head over to the website to check out the deals. After sifting through the online ad, I start to develop my weekly meal plan.
On Saturdays, I head over to Sprouts with my grocery shopping list on my iPhone. I scoop up all of my groceries and put them in the refrigerator.
On Sundays, I meal prep and make most of my lunches and dinners for the week. If my meals are prepped throughout the week I'm less likely to fall into temptation after a long workday. I'm less likely to go out to lunch with coworkers. I'm also not tempted to stop by Chipotle after work because I'm too lazy to cook. If all I have to do is pop my Tupperware in the microwave, I have no reason to eat out.
Breaking up my meal prepping and grocery shopping tasks throughout the week keeps me on track and prevents me from feeling overwhelmed. Try it out, and see what works best for you. The more you practice, the better you will be–I promise!