As a frugal millennial, I would be doing you a disservice if I never posted about Dollar Tree. When I lived in Arizona and was working to pay off my student loans as quickly as possible, I relied heavily on the dollar store. Dollar Tree was my first stop when I needed to purchase anything. When you're working on a tight budget, every extra dollar you can save is going to make a difference. Over the last few years, and many trips to the dollar store, I've developed a pretty good sense of what to buy and what to skip at the Dollar Tree.
What to Buy at Dollar Tree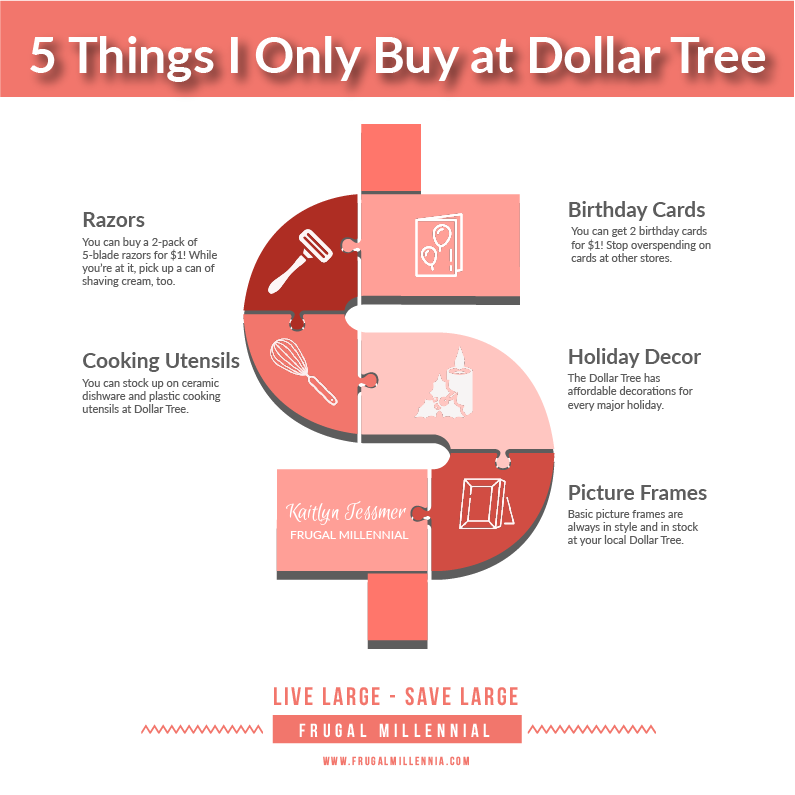 Birthday Cards
I think birthday cards are overrated. Most of the time people scan them quickly before ripping open their gift. Then, the card gets thrown away and boom! You just spent $3-$4 on a card that was barely read or appreciated. Having said that, my friends and family rarely receive birthday cards from me. When I do splurge for a card, I ALWAYS buy it from the dollar store.
At Dollar Tree, each greeting card costs $0.50. You can get 2 birthday cards for $1.00. What a steal! That is way more affordable than the $3-$4 you would spend at Walgreens or Target.
Shaving Cream and Razors
Stop spending $20 on a razor! It's absurd how costly it can be to keep your body hair free. My local Dollar Tree has a 2 pack of 5-blade razors for, you guessed it, $1.00. That's right, I spend $0.50 on a 5-blade razor. Now, it's not a brand name razor, but it works just as well. The Dollar Tree is the number one place I purchase razors.
On that note, I also only buy shaving cream from the dollar store. To me, all shaving cream is created equal. I don't need to splurge on a brand name shaving cream. A large can from the dollar store is a great addition to my daily routine.
Before you buy another razor, check out my post on how to make your razors last longer.
Cooking Utensils
My kitchen in Arizona was completely furnished thanks to Walmart and the Dollar Tree. I had affordable pots and pans from WalMart and dishes/cooking utensils from the Dollar Tree. The dollar store is going to become your favorite place to shop if you need kitchen utensils but have very little extra cash. I had multiple plates, cups, even silverware from the Dollar Tree. I bought whisks, spatulas, oven mitts, and ice cube trays from Dollar Tree. You'd be surprised how easy and affordable it is to furnish your kitchen from the dollar store.
Now, mind you, your kitchen won't be featured in the next Pottery Barn magazine. But, if you're just looking for functionality and not style, head over to the Dollar Tree the next time you need a plastic cutting board.
Holiday Decorations
If you love decorating your house (or desk at work) for each holiday, you need to check out your local Dollar Tree. The dollar store is my first stop when I need holiday decorations. They have a wide array of decorations for every (major and minor) holiday. There's no need to drop $100 on holiday decorations that you'll use for just a few weeks. Save your money and head to your local Dollar Tree. You can decorate your entire house for under $20.
Keep in mind, you'll want to prepare in advance. Decorations at the dollar store are a holiday ahead. Which means you don't want to shop for Valentine's Day decorations on February 10th. By the time February hits, the dollar store is already selling Easter decorations. Catch my drift? Prepare in advance and you'll score major deals on holiday decorations at Dollar Tree.
Picture Frames
There are two places I regularly buy picture frames: Goodwill and Dollar Tree. The dollar store is a great place if you're looking for simple 4×6 or 8×10 picture frames. Most of their frames are either black plastic or wood. Which is great if you're looking for simple designs. Decorating your house with pictures of loved ones doesn't have to break the bank. By heading to your local Dollar Tree you can save a lot of money on picture frames.
Have you checked out your local dollar store lately? What are your go-to Dollar Tree items? Comment below, I want to hear!