Hello, my fellow frugal millennials! It's Thursday which means I spent about a half hour yesterday scouring the Sprouts Weekly Ad Deals and planning my weekly meal plan for the week. Here's a breakdown of my methodology.
Looking at Weekly Ad Deals
Before I even started thinking about what I wanted to eat I looked at Sprouts Weekly Ad Deals. Here's what I noticed:
Black grapes are a good deal. I will typically buy grapes if they are less than $1 per pound. They typically range from $1.99-$0.88 per pound. The fact that they are as low as $0.77 per pound is a great deal. I'm going to grab a bag of black grapes to snack on throughout the week.
Italian squash is a good deal. Italian squash typically cost about $1.50 per pound so the fact that they are on sale for $0.48 per pounds is another good deal. Because this is the best vegetable deal of the week, I'm going to focus one of my meals around Italian squash.
Artisan lettuce is another fantastic deal! This type of lettuce typically costs $2.99-$3.99 per pack. It's on sale for $0.98 which is an AWESOME deal. I'm going to figure out how to incorporate this into my meal prep.
Mild cheddar cheese is a good deal. I try to pick up whatever cheese is on sale that week and use it in scrambled eggs and maybe lunch or dinner.
There really aren't very great meat deals this week. Which means I'm going to have a pretty veggie week.
Creating a Meal Plan
After considering the deals, I know an easy meal would be tacos. I can use the lettuce cups as shells, the cheddar cheese that is on sale, and extra lean ground beef is on sale for $4.99 lb. Not the greatest ground beef deal, but it's the only meat I'm going to eat this week so I'll splurge.
I'm not too familiar with cooking with Italian squash so I had to head over to Budget Bytes to look at recipes. There's a recipe for Zucchini Pizza Boats that looks simple enough so I'll try that.
For breakfast, I'll alternate between scrambled eggs, pancakes, and protein shakes. These are my typical go-to breakfasts. Plus, I already have all of the ingredients on hand that I need to use up.
You'll notice that I have a few blank squares on my weekly meal plan. Those are the days I'm planning on eating out. I know that one Wednesday I'm going to grab lunch with a friend. Friday and Saturday I typically eat out. Sunday I'll probably sleep in and eat a late brunch which means I won't need to eat lunch.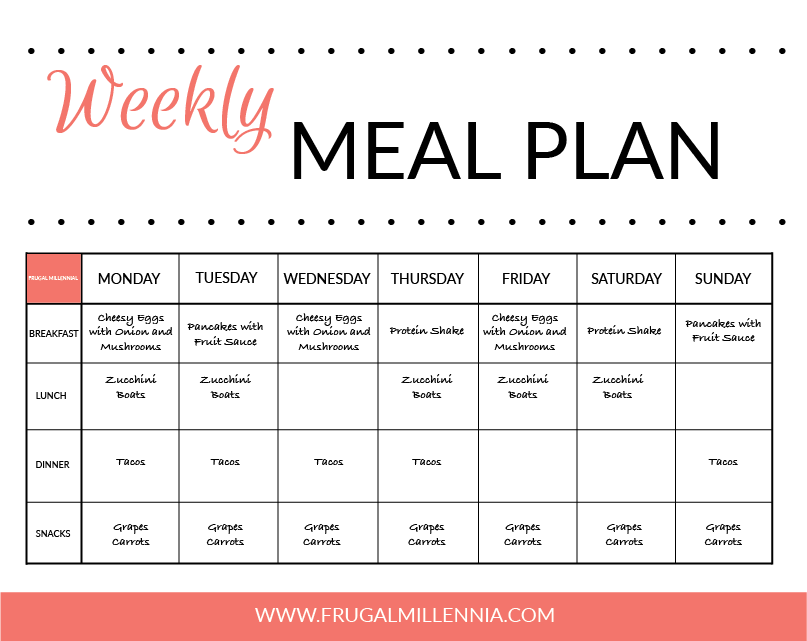 Creating a Shopping List
After looking through my refrigerator, I have a fair amount of ingredients leftover from previous weeks. Here's what I'll need to buy this week:
1 Red onion $0.69/lb
1lb bulk mushrooms $2.99/lb
6 Italian Squash $0.48/lb
1 can tomato sauce $0.99
1 can black olives (price unknown, probably $1.99)
1 artisan lettuce $0.98
1 lb ground beef $4.99/lb
1 lb mild cheddar cheese $2.99/lb
2.5 lb Grapes $0.77/lb
1 bag baby carrots $0.98
Total estimated cost: These ingredients will cost around $21.50. I'll also probably grab a bag of chips and maybe some chocolate because I am human after all! But I would expect my total cost to be less than $30 which is a great start to the month. I always like to start the month under budget. That means I can try out more exciting recipes as the month goes on. Or I can grab a few extra treats later in the month.
If you want to learn more about how I meal prep, check out my post on grocery shopping on a budget.